Interviews
Ed Young did a fun audio interview with Dr. Bruce Solheim, a gifted historian and conscientious explorer of many subjects of interest to you who visit this website. Hope you enjoy.
Scientist Creates Device That Proves Psychic Energy Exists
Part 1 of this interview on Dr. Bruce's April 22, 2019 show:
Part 2 of this interview on Dr. Bruce's November 26, 2019 show: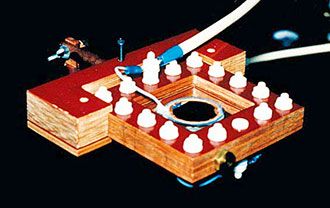 Device proves psychic energy existsDr. Edwin M. Young received the Outstanding Senior In Electrical Engineering award among other honors when he graduated from Notre Dame in 1973. He then worked at Westinghouse's Advanced Reactors, Pressurized Water Reactors, and Research Laboratories divisions, including electric vehicles, back in his Pittsburgh home town for a year before a Full Dean's Fellowship offer from Stanford University took him out to the West Coast for MSEE and PhDEE studies that included running a highly controversial psychic research laboratory on the Stanford campus.

Upon graduation in 1985 he was invited to join the MIT Lincoln Laboratory think tank, conducting research on microelectronics, where he remained for several years before being invited back out to the West Coast, to Silicon Valley, in an executive-level position at Digital Equipment Corporation's million-dollar-a-day advanced computer operations where he guided highly technical diagnoses of product quality issues.

In mid 1992 he finally gave up the security of a normal job to do private consulting and daring to widely publish long-hidden Truth from the little mountain country town of Tehachapi, CA, north of LA near Edwards AFB, China Lake Naval Weapons Center, and who knows how many related secret underground facilities, where he remains to this day a thorn in the side of the Deep State.

This is the first interview that Dr. Young has done in many, many years.