Spiritual Messages
The Spiritual Messages here are of the very highest "channeled" quality from a number of Ascended Masters, Teachers, and Wayshowers from the Higher Realms of Creation--and, as well, there are a few messages by exceptional teachers in our world--all of whom are dedicated to assisting ones who find themselves restless and searching (that is, ready) for the "next step" of their spiritual growth.
(Messages here are in descending chronological order. View Messages grouped by Author.)
(Messages here are grouped by author. View Messages in chronological order.)
4 minutes reading time
(761 words)
The Shackles Shall Be Unlocked!
Esu present in Light and in Service to The One God. I come in response to your petition for the greater good of ALL.
There are those who seek to keep humanity enslaved in the chains of ignorance. I am come this day that the shackles may be unlocked, that the mind may be freed, and that the soul may soar with the eagles.
There is a scramble by your Elite One Worlders, and that scramble is to HOLD THEIR POSITION, for it is slipping from their grasp, more with each passing day. The harder they try to implement their plans of power, and to further enslave the population, the more quickly their plans are backfiring upon them. This shall continue; yeah, it shall escalate.
God's Plan is for the WHOLE of humanity to be a FREE people. All plans of enslavement for God's people shall always fail. It is foolhardiness to think otherwise.
But so it is with the Big Egos in positions of power. They are but puppets on a string, dancing to the Dark Brotherhood's rhythms. All the while the Master of Deceit laughs at the antics which are so predictable, and so doomed to failure.
Collectively the awakening of mankind is ON TARGET. You don't hear about that in your controlled media. Perhaps one day you shall. I said: Perhaps one day you shall! For in a free society there is also a FREE EXCHANGE OF TRUTHFUL INFORMATION. And so it shall be for those of humanity who make the CHOICE to live in accordance with the Goodness within man's soul.
My compatriots and I shake our heads as we watch the antics of your military and political so-called leaders. They are like rats in a maze. Why is it that man, in his EGO, must seek to DOMINATE AND DESTROY all around him? You may not bomb innocent women and children and old men without consequences. Did you really think there would be no consequences for such actions? Come now.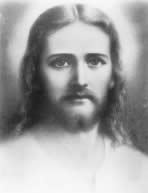 ESU "JESUS" SANANDA
This reproduction is from an actual photograph taken on June 1, 1961 in Chichen Itza, Yucatan, by one of thirty archaeologists working in the area at the time. Esu Sananda appeared in visible, tangible body and permitted his photograph to be taken.
This reproduction is from an actual photograph taken on June 1, 1961 in Chichen Itza, Yucatan, by one of thirty archaeologists working in the area at the time. Esu Sananda appeared in visible, tangible body and permitted his photograph to be taken.
I come with God's representatives of Light. And yes, we must allow man his choices. BUT WE DO NOT NEED TO STAND BY AND WATCH AS THE SLAUGHTER OF MANKIND IS UNLEASHED UPON THE PLANET.
I AM WARNING YOU NOW: DO NOT TAKE THIS TOO FAR, FOR YOU SHALL RUE THE DAY THAT YOU GAVE SUCH ORDERS FOR VIOLENCE.
YOU ARE NOT THE PEACE-KEEPERS FOR THE WORLD; YOU ARE THE WAR-MAKERS FOR THE WORLD.
YOU BRING DEATH AND DESTRUCTION IN YOUR WAKE, AND YOUR PLANS FOR CONTROLING THE WHOLE OF THE POPULATION SHALL NOT GO AS YOU FORESEE. TEST MY WORD IF YOU DARE, BUT YOU SHALL ALSO SEE THE UNFOLDING OF GOD'S PLAN BEFORE YOUR EYES, AND YOU SHALL STAND HELPLESS, AND RESPONSIBLE, AND IN AWE!
MARK MY WORDS WELL.
I said it before and I shall repeat my words: You-the-people are being deceived and lied to. Your media is controlled and is not telling you the truth. THE VEIL OF DECEPTION SHALL SOON BE LIFTED, AND THOSE WHO HAVE LIED TO YOU SHALL STAND ACCOUNTABLE FOR THEIR ACTIONS.
Do I know the hour of my return? No, I do not know the hour of my return. But I may tell you that I am righteous in my anger, and when I do return there shall be a reckoning.
Do not be fearful, scribe, for no harm shall come to you. These words must be written so that people may see my words and take those words to heart. I hear your pleas, and those prayers shall not go unanswered.
Blessed people, you are loved beyond your ability to comprehend. KNOW that you are not alone in this magnificent universe. There is help, and we are here!
Hold this close in your hearts, and rest in the knowledge that God's Plan is real, and justice shall prevail.
I am Esu Immanuel, who many of you have known as Jesus. I am known now as Sananda, which is a level of accomplishment meaning "One with God".
Go in peace.
About the author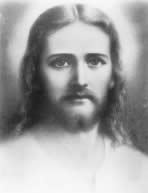 As a part of his own growth experiences within that current level of accomplishment, Esu is regarded as the Commander-In-Chief of this particular planetary reclamation and transition mission, especially concerning the "harvesting" of the Lighted souls. In this case, it probably would be appropriately descriptive to say that the "shepherd" is still faithfully tending his "flock" and, in this current upcoming-planetary-transition phase of that project, he is in charge of directing ALL those, from ALL realms of creation, who are here and assisting him to "sort and bring his flock home".